Rusk County Community Career/Job Fair to be held April 19th, 2017
Ladysmith (WI) –  The Annual  Community Career & Job Fair will be held on Wednesday, April 19th at the Ladysmith High School Gym.  The Community Job Fair will run from 11:30-3:30pm.  The Job Fair is open to all those seeking employment, a new opportunity, advancement, or if you are curious about what jobs are available in the area.
The Student Career Fair will run from 1pm-3:15 and will be open to area students.  Students will be able to visit with area companies to see what types of careers and jobs are available in the community.  While this is a career fair is can also be a job fair. Participating companies are welcome to publicize and promote current job openings, and take applications from students.
Last year's event had over 25 exhibitors, and we'd like to grow that number as focus continues on developing and growing the area workforce.  There are job openings but a lack of applicants to fill them.  We continue to see people leave the area in search of opportunity, when that opportunity may exist here.  This event is intended to show area students what our local companies are doing, change negative perceptions, and show them the careers that exist.  If they want to enter the workforce directly, or go onto school and return – we have companies and jobs available for them, or opportunities for them to start their own business.  It is also an opportunity for the public to see what jobs are available – and what area companies are offering.
All area employers, small business owners, and organizations are invited to exhibit at the event.  There is additional room available, and there is no charge.  Even if you are not currently hiring, we want your company to participate. Big or small, 1 employee or hundreds, manufacturing/health care/service/retail/professional, hiring or not hiring; we want broad company participation to exhibit to students and community the wide range of business and industry, jobs and careers that are available. This is an opportunity to share your future career and job opportunities and talk about your business.
To exhibit or for more information call Rusk County Development at 715.532.2257, or email aalbarado@ruskcountywi.us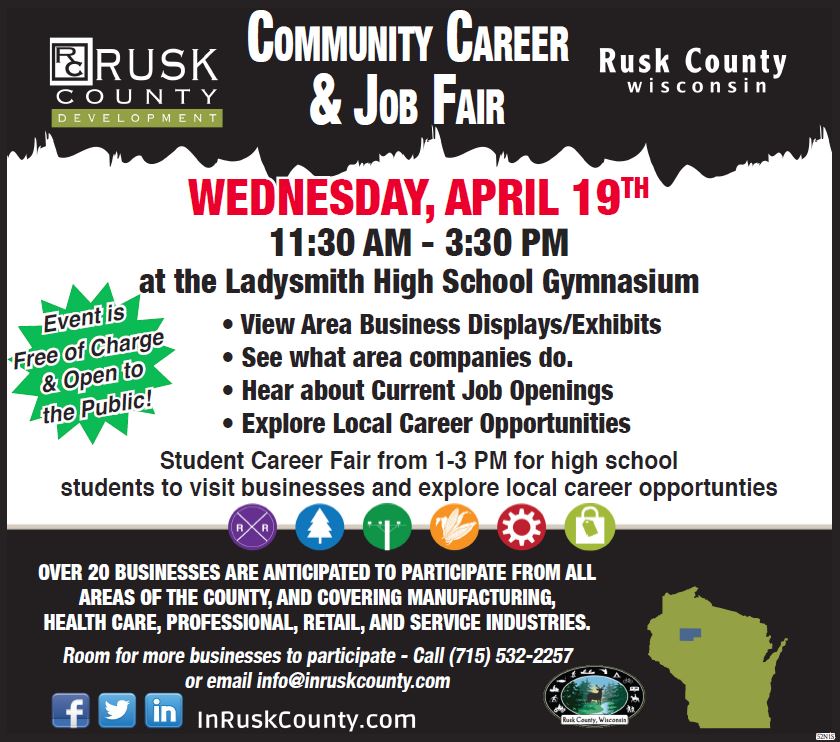 Testimonials
"When thinking about coming back to Ladysmith after going away to college, I thought I could make a difference and make the younger generation appreciate this wonderful place that I grew up in. I wanted to give something back to the community that gave so much to me while growing up here. I love the small town feel of Ladysmith 🙂  I have a different attitude toward Ladysmith now that I am an adult …""
Jessica Bingham
College Grad  
Returned to work in Rusk County
Resource Room
Featured documents for your business